Online Workshop - Tuesday 26th October 2021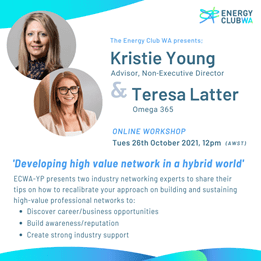 Due to the accelerated change in the working environment brought by a global pandemic, many professionals are now adapting to new ways of working (fully online or in a hybrid workspace).
ECWA-YP presents two industry networking experts to share their tips on how to recalibrate your approach on building and sustaining high-value professional networks to; discover career/business opportunities, build awareness/reputation and create strong industry support.
Date: Tuesday 26th October 2021 Time: 12.00pm - 1:00pm
Zoom: Log in details will be sent to you prior to event start. Registrations required.
Tickets: ECWA Member's complimentary, Non-Member $15.00
Pinot, Painting & Networking - Tuesday 28th October 2021

Pinot & Painting is an art entertainment experience where you create your own work with a paintbrush in one hand and a drink in the other!
An experienced and trained artist guides participants through a featured painting. Materials provided, no drawing or painting experience is necessary.
​We love painting and we love meeting new people. Come along and enjoy a different sort of networking experience.
Date: Thursday 28th October 2021 Time: 5:30pm - 8:30pm
Venue: Public House - 263 Adelaide Terrace, Perth WA 6000
Tickets: $80.00 pp
Annual Golf Day - Thursday 4th November 2021

This is a great day out, perfect for team building and networking opportunities. The competition for the day is the Ambrose Team Event, an 18 hole game.
Player tickets are now sold out, however, limited sponsorship tickets are still available. There are sponsorship packages to suit any budget and all packages include player tickets, plus the opportunity to showcase your brand to a sell-out crowd.
Date: Thursday 4th November 2021 Time: 12:00pm - 9:00pm
Venue: Wembley Golf Course
Player Tickets: Member $230.00 and Non-Member $250.00
Thank you to our event sponsors Powertech, AMC, Axess, Information Quality and Upstream Production Solutions.
Introduction to Energy Industry Seminar - Friday 12th November 2021

The Introduction to Energy Industry is a one-day seminar for those who wish to gain a broad understanding of the energy industry at an introductory level.
Delivered by industry professionals and experts in their fields; the core topics cover upstream oil and gas, with pointers to our future energy industry. Recommended for administration staff, people who supply services to the energy industry (finance, law, engineering, etc.), those looking for employment or new employees.
Date: Friday 12th November 2021 Time: 9:00am - 4:30pm
Venue: Brookfield Place Tower 2, 123 St Georges Terrace, Perth WA 6000
Tickets: Non-Member $315.00, Member $285.00, Student $85.00, Group (3+) $265.00 pp
*Morning Tea, Lunch and Afternoon Tea, plus access to presentation are inclusive. For Group and Students bookings please contact the office to assist with your booking.
November Networking Dinner - Wednesday 17th November 2021

We're delighted to welcome Chris Wilson, Senior VP Operations at INPEX, as a guest speaker at our November Dinner. He will present 'Sustainable energy, for the long haul'.
Ichthys LNG is the heart of INPEX's global operations. Chris will overview INPEX's approach to safe and sustainable energy production, and the carbon capture and storage potential in Australia to support the company's commitment to a net-zero carbon society by 2050.
As INPEX Senior Vice President Operations, Chris leads the team responsible for managing Ichthys LNG, along with the company's subsurface, drilling, field development, and supply chain activities.
Date: Wednesday 17th November 2021 Time: 5:30pm - 9:30pm
Venue: Perth Convention and Exhibition Centre - Level 3, Bellevue Ballroom 2
Tickets: Member $135.00, Young Professional Member $90.00, Member Table of 10 $1,300.00, Non-Member $175.00, Non-Member Table of 10 $1,500.00
Register Now Bookings open to public Thursday 28th October.
Mandatory Contact Register

From 5 December 2020, particular businesses must maintain contact registers for WA Health Department COVID-19 contact tracing.
To help, the WA Government has developed a free app, SafeWA, which will provide businesses with a digital contact register system. Each venue will have a unique QR Code displayed on arrival for you to scan and register your attendance. Sign-in sheets are also available.